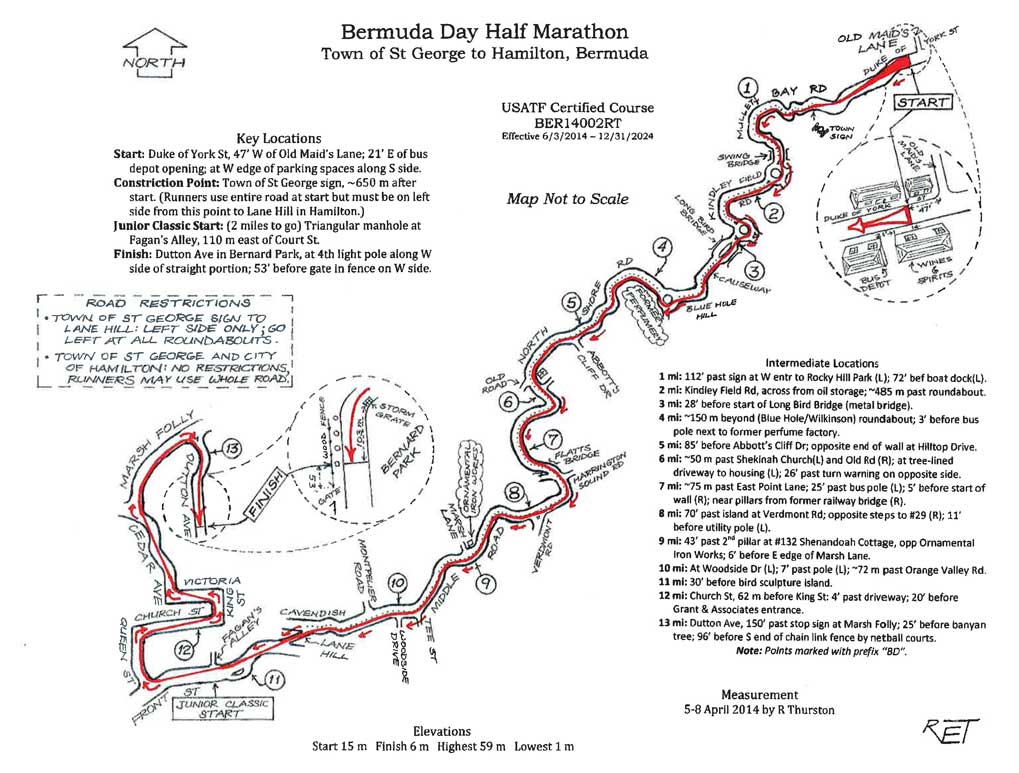 Directions & Instructions: The race starts at the junction of Duke of York Street and Old Maid's Lane, St. George's. Runners may use the entire road from the start to the Town of St. George's sign. From this point participants must run on the left side of the road including following the normal traffic flow at all roundabouts until Lane Hill in Hamilton. Proceed along Mullet Bay Road, Kindley Field Road, The Causeway, Blue Hole Hill, North Shore Road, Flatts Hill, and Middle Road. Turn left at Lane Hill. Proceed down Lane Hill to East Broadway, and Front Street to Queen Street. Proceed up Queen Street turning right onto Church Street to King Street. Turn left at King Street and proceed to Victoria Street. Turn left at Victoria Street and proceed to Cedar Avenue. Turn right at Cedar Avenue and proceed to Marsh Folly Road. Turn right at Marsh Folly Road and proceed to Dutton Avenue. Turn right at Dutton Avenue and follow the directions onto the field at Bernard's Park to the Finish Line.
RELAY Changeover Points:
Leg 1 – Duke of York Street and Old Maid's Lane, St. George's (Approx. 3.75 miles)
Leg 2 – Between mile 3 & 4, Bus Stop at Bailey's Ice Cream (Approx. 3.25 miles)
Leg 3 – Between mile 7 & 8, Bus Stop at The Aquarium (Approx. 3.00 miles)
Leg 4 – Between mile 10 & 11, Bus Stop at Fort Hill Rd (Approx. 3.25 miles)
Finish, Bernard Park, Pembroke
Parking Options for Participants
Leg 2 – Crystal Caves
Leg 3 – The Aquarium and Whitney School
Leg 4 – Fort Hill Road
NOTE:  Please DO NOT park on private property or block private driveways! DO NOT park on roadways with a yellow line; your vehicle will be ticketed by the Police.
Refreshment / Water Stations: There are 9 official refreshment stations on the course. They will provide fresh water and a sports drink for all participants.
Refreshments will be provided at Town Square in St. George's before the start of the race.
Approx 2.5 miles Bus Stop at Airmail Facility on Kindley Field Road
Approx 3.75 miles Bus Stop at Blue Hole Hill
Approx 5.25 miles Bus Stop at Francis Patton School
Approx 6.50 miles Bus Stop at Shelly Bay Beach
Approx 7.50 miles Bus Stop at Whitney Institute Middle School
Approx 8.75 miles Bus Stop Bus Stop at First Baptist Church
Approx 10.75 miles Bus Stop on East Broadway
Approx 11.50 miles at The Bermuda Library, Queen Street
Approx 12.50 miles at Appleby, Victoria Street
Refreshments will be provided at the finish line.
NOTE: The use of unofficial water stations is at your own risk.