Video by Method Media Bermuda     
---
The Origins of Heritage Month and Bermuda Day
Civil unrest in the 1960s and 1970s prompted the Bermuda Government to commission a report examining the social conditions in Bermuda and make recommendations to promote a more unified and peaceful social atmosphere. The Pitt Report of 1978 gave an accurate representation of the social and racially tense atmosphere at the time, and included feedback from many Bermudians that suggested an event should be organised to bring Bermudians together in harmony and to build a sense of civic pride.
It was decided that a parade would provide an opportunity for camaraderie and celebration, similar to the Easter Parade that ran from the 1930s through to the 1960s. During that time, many farmers grew flowers so that they could be in full bloom for the Easter period. It was also suggested in the Pitt Report that the proposed event capture the unifying spirit of the existing May 24 half-marathon. These events both served as inspiration for the Bermuda Day Heritage Parade which replaced Empire Day, the annual public holiday recognising Queen Victoria's birthday. The first Bermuda Day Parade took place in 1979.
Bermuda quickly realised that one day of celebration was not enough time to recognise the broad spectrum of Bermudian heritage and traditions. Heritage Week was born, celebrated in the last week in May. By the mid-1980's, this was expanded further into Heritage Month with a calendar full of events through May that celebrates Bermudian culture, heritage, and traditions. Bermuda Day has become the culminating point of Heritage Month and one of the most beloved cultural holidays alongside Cup Match (Emancipation Day & Somers Day). On Bermuda Day, Bermudians showcase their pride in the beauty and diverse culture of our island – whether they participate in the parade, the half-marathon, go for their first swim of the year, attend the season's first fitted dinghy boat races, or follow the Gombeys through the streets crying, "Ay-oh!".
---
Report of The Royal Commission into the 1977 Disturbances
[googleapps domain="drive" dir="file/d/0BxLzTSu2fmAvV2VlWWhBQkZVT0k/preview" query="" width="640″ height="780″ /]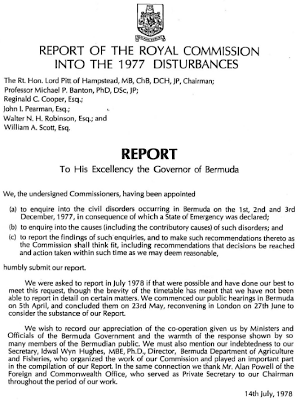 ---
Links